This strange situation is happening around the international border in Gurdaspur district of Punjab. Here a binocular has been installed, which is on the side of Pakistan. The queues here are long and the days are getting longer. A large number of Sikh community people are reaching here.
This crowd of Sikh community is going to the gurdwara of Gurdaspur from where he is presenting the holy pilgrimage site of Kartarpur Sahib in Pakistan.
Last month, when Punjab minister Navjot Singh Sidhu returned from the swearing-in ceremony of Prime Minister Imran Khan, then Pakistan had given a statement that Pakistan Army Chief General Kamar Javed Bazwa passed the order on the occasion of 550th birth anniversary of Gurunanak Dev by Guru Gurdwara Dera Baba Nanak. Kartarpur Sahib has promised to open the path.
Since then, the number of people coming to visit here has increased. After this, Pakistani Information Minister Fawad Ahmed Chaudhary also said last week that Imran Khan government is considering allowing permission for Visa Free Direct Access for Kartarpur Sahib for Indian Sikh pilgrims.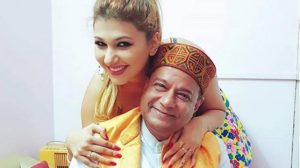 Since the beginning of the opening of Kartarpur has started, hope has increased in the Indian Sikhs. At present, devotees who wish to visit Kartarpur are seeing the holy place from the telescope. Kartarpur Sahib Gurudwara is made of white marble, on the day the sky is clear, people can see the building. This place for Indian devotees is prepared by the BSF, which is just a few miles away from the border.
Where the continuation of the pilgrimage of these days is going on. Visitors are coming and seeing the people from every corner of the country. People living there say that since last few days Nepalese grass was flowing towards Pakistan, due to which the people were unable to see it, hence BSF has now arranged a telescope to keep the wish of Kartar Sahib philosophy. This telescope has been installed in the case of iron at the sight of the spot, which is now able to do the darshan of Kartarpur Sahib comfortably. Devotees are seen praying from the telescope to the Guru and praying.
 Kartarpur Sahib is a Sikh shrine
It is believed that after completing his famous four visits, Gurunanak Dev started living in Kartarpur Sahib in 1522, where he spent the last 17 years of his life. After his death, the guru was formed here Patiala's Believer Baljinder Kaur says, "Every Sikh prays in Pakistan for unrestricted entry into Nankana Sahib and other gurdwaras in Pakistan. Hopefully our prayers will be accepted soon. '