The deadlock between the government and the farmers regarding agricultural laws is not getting reduced. Today, Rakesh Tikait ate food while sitting on the road. While the farmers are not ready for anything less than the cancellation of these laws, the government is talking about the reforms in these laws after taking the opinion of the farmers. The farmers say that they will not return from Delhi until the laws are withdrawn. Rakesh Tikait says that this movement will run till October.
He said that the government wants to stop eating, so we are eating food sitting on the road. The police warning was written in the place where Rakesh Tikait chose for this protest. When the police said that Section 144 was imposed, he sat there and ate his food.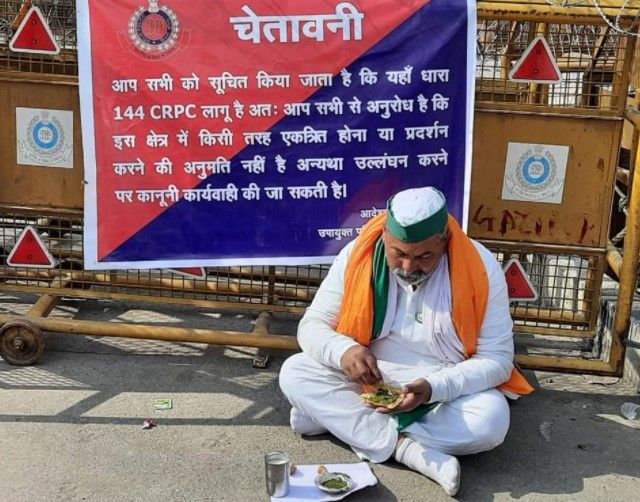 It is worth noting that Rakesh Tikait, who has held a front on the Ghazipur border with thousands of farmers, is getting full support from leaders of other parties.
who is Rakesh Tikait
Rakesh is the second son of the elder farmer leader and late Mahendra Singh Tikait, who was the president of the Indian Farmers Union. Rakesh Tikait is currently in the core group of farmers who are constantly talking to the government on the Agriculture Amendment Bill. He was born on 4 June 1969 in Sisauli village of Muzaffarnagar district. In 1992, he worked as a constable in Delhi Police. He has studied MA at Meerut University. Tikait quit the Delhi Police job in 1993–1994.
Rakesh quit his job and started taking part in the farmers' fight with the Bharatiya Kisan Union. After the death of his father, Rakesh Tikait took command of the Indian Farmers Union completely. Rakesh Tikait was married to Sunita Devi of Dadri village in Baghpat district in 1985. They have one son Charan Singh, two daughters Seema and Jyoti.