PM Kisan: The central government is going to give good news to about 117.4 million farmers in the country after Holi. If you are registered in PM Kisan Samman Nidhi, money will be credited to your account soon. After Holi, the government will announce the eighth installment of PM Kisan. This installment can be credited to your account at any time during the month of April. Let me tell you that if Rft Signed by State is written in the state, it means that your April installment is coming and if it is not written then your installment is doubtful. Let us tell you how you can check if your next installment will come.
Prime Minister Narendra Modi on Friday released the eighth installment of over Rs 20,000 crore to more than 9.5 crore farmer-beneficiaries under the Pradhan Mantri Kisan Samman Nidhi (PM-KISAN) scheme on Friday via video-conferencing. Agriculture Minister Narendra Singh Tomar, who was present on the occasion, said West Bengal has joined the scheme with more than 7 lakh farmers of the state getting the benefit today.
PM KISAN Beneficiary Status
Visit the PM Kisan Sanman Nidhi website (https://pmkisan.gov.in/).
After this, you have to go to the option of Farmers Corner.
Click on Beneficiary Status here. Clicking here will open a new page.
On that new page, you have to choose either Aadhaar number, bank account number, or mobile number.
After selecting the option, you have to enter its number there.
Then click on Get Data. As soon as you click on Get Data you will get information about the complete transaction. You will also find information regarding the eighth installment here.
Apart from this let me tell you that when you check the status of payment, you will often see Rft Signed by State for 1st, 2nd, 3rd, 4th, 5th, 6th or 7th installment written, which means that your data check from State Government Has been done and the data is perfectly fine. Only then the money will be transferred to the beneficiary's account by the state government.
12 મા હપ્તા અંગેના ન્યુઝ વાંચવા અહી ક્લિક કરો
Charak Samhita Book PDF in Gujarati Free Download
PM Kisan registration
Go to the official website (https://pmkisan.gov.in/). Here you have to click on New Registration. A new page will open. Now enter your Aadhaar number here, after this, the registration page will open. You will have to fill in all the information in the registration form. You must provide information on which state, district, block, or village you belong to. Now you have to fill in the bank details and Aadhaar details. Save details after filling in all the information To know the status of the application, you can contact the new helpline number 011-24300606 directly from your registered mobile number.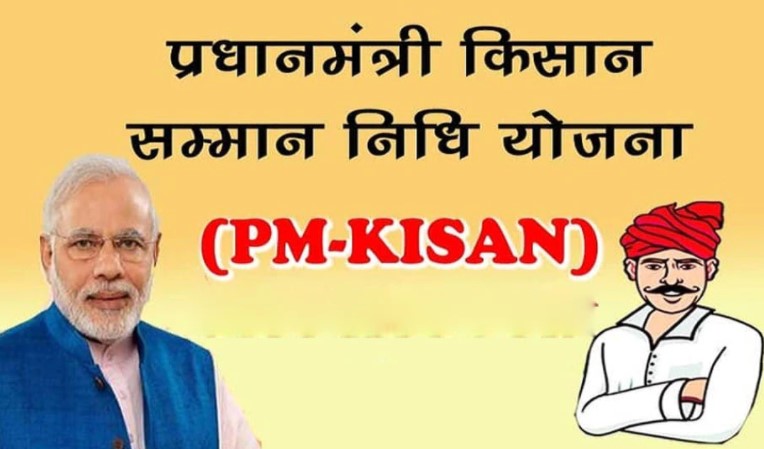 Official Website: pmkisan.gov.in
તમારા ગામની યાદી જોવા અહી ક્લિક કરો
કિસાન માનધન યોજના
જો તમે પીએમ કિસાન યોજનામાં લાભ લઈ રહ્યા છો તો હવે તમને તમારા ખાતામાં વર્ષે 6000 રૂપિયાની સાથે દર મહિને 3000 રૂપિયા પણ આપવામાં આવશે. આ માટે તમારે PM Kisan Mandhan Schemeમાં રજિસ્ટ્રેશન કરાવવાનું રહેશે. આ માટે મહીને પ્રીમિયમ 55 રૂપિયાથી લઈને 200 રૂપિયા સુધીનું હોય છે. આ સ્કીમમાં 60 વર્ષની વય પછી ખેડુતોને 3 હજાર રૂપિયા પેન્શન મળશે. જો તમે આ યોજના માટે પાત્ર હો તો તમે કોઈપણ કોમન સર્વિસ સેન્ટર (CSC) પર તેનું રજિસ્ટ્રેશન કરાવી શકો છો.
પ્રધાનમંત્રી કિસાન માનધન યોજના વિષે જાણવા અહી ક્લિક કરો