The iDream Learning App is a free educational app which offers enjoyable and interactive educational content in Hindi Medium and local languages for 1st to 12th.
*Please note that in Hindi medium all classes and all subjects are thoroughly covered but for other local languages and state boards, we have put everything that we could manage for now, and we will be soon adding more content, subjects and more classes in local languages and state boards.
We had launched the app so that during lock down, at least whatever is available should reach our local language students. Therefore, please keep using whatever content is already there in local languages and we will keep working to extend the coverage for you.
iDream Learning App – free educational app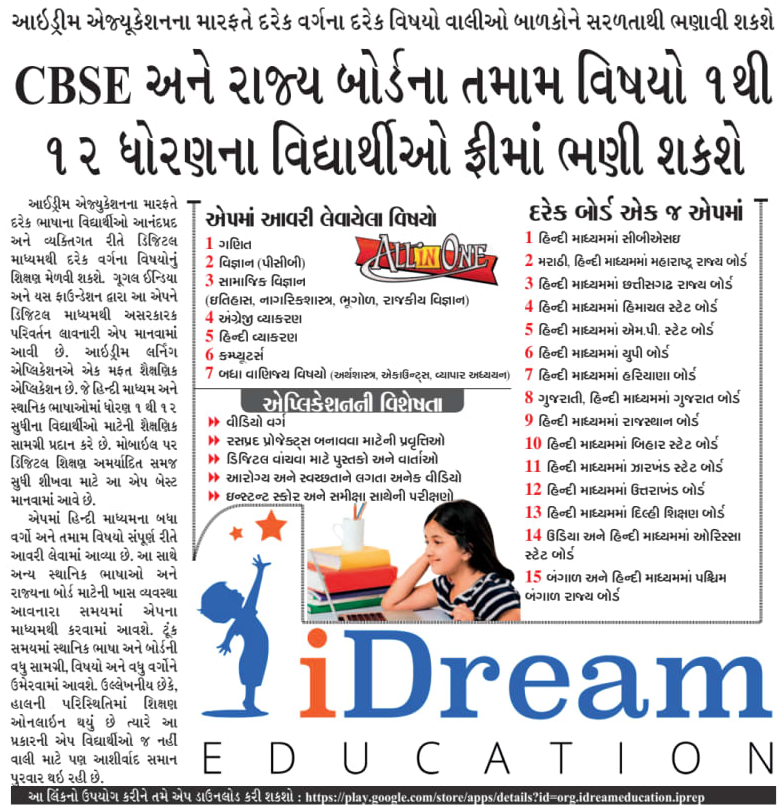 The educational app covers the below mentioned Boards and Language mediums for now:
1. CBSE in Hindi Medium
2. Maharashtra State Board in Marathi, Hindi Medium
3. Chhattisgarh State Board in Hindi Medium
4. Himachal State Board in Hindi Medium
4. MP State Board in Hindi Medium
5. UP Board in Hindi Medium
6. Haryana Board in Hindi Medium
7. Gujarat Board in Gujarati, Hindi Medium
8. Rajasthan Board in Hindi Medium
9. Bihar State Board in Hindi Medium
10. Jharkhand State Board in Hindi Medium
11. Uttarakhand Board in Hindi Medium
12. Delhi Education Board in Hindi Medium
13. Orissa State Board in Oriya & Hindi Medium
12. West Bengal State Board in Bangla & Hindi Medium
Currently, the iDream Learning App covers following subjects in Hindi medium:
1. Math
2. EVS
3. Science (PCB)
4. Social Sciences ( History, Civics, Geography, Political Science)
5. English Grammar
6. Hindi Vyakaran
7. Computers
8. All Commerce Subjects (Economics, Accounts, Business Studies)
In other languages, Math and Science are covered for most classes and rest shall be added as per availability in the coming times. But at least some content will be available.
Types of Digital Content in the Learning App
Video Lessons for Concept Clarity
Toys and Activities for making interesting projects at home
Books & Stories to read digital books
Life Skills through videos on health, hygiene and holistic development
Practice Questions with live topic mastery
Tests with Instant scores and Self Review
About iDream Education
iDream Education is a social ed-tech organisation with a vision to facilitate access to enjoyable & personalised digital learning to every student in the language that they learn in. We have been awarded by Google India and Yes Foundation for" "Impacting Change through Digital".
Now, with the iDream Learning App we wish to nationally serve all the students in Hindi medium and local languages whom we can reach and empower.
Use the iDream Learning App to happily learn and access the unlimited growth possibilities that digital education on mobiles can bring to your lives. You can skill yourself and achieve anything you wish to, with the power of digital.
Happy Learning!
Read more about the iDream Learning App on the website page: idreameducation.org/learningapp
You can know more about iDream Education on the website:
https://www.idreameducation.org/
પોસ્ટ ઓફિસની સ્કીમ: દરરોજ રૂ.95 જમા કરાવો અને મેચ્યોરિટી પર રૂ.14 લાખ મળશે