Download Azadi Ka Amrit Mahotsav Certificate – Rashtragaan.in
---
Hon'ble Prime Minister Shri Narendra Modi has often shared his vision of building a new, AatmaNirbhar Bharat by the year 2022. You may be aware that our great nation is now just few weeks away from the 75th Anniversary of Indian Independence (Azadi ka अमृत महोत्सव). To commemorate the monumental occasion, all Department and Ministries will host a set of activities for a resurgent, Aatmanirbhar Bharat. How do you envision the India of tomorrow, the India which will merge the best of tradition with the most modern, global outlook in the following themes:
ये हमारा सौभाग्य है कि समय ने, देश ने, इस अमृत महोत्सव को साकार करने की जिम्मेदारी हम सबको दी है…. एक तरह से ये प्रयास है कि कैसे आजादी के 75 साल का ये आयोजन, आजादी का ये अमृत महोत्सव भारत के जन-जन का, भारत के हर मन का पर्व बने.
Azadi Ka Amrit Mahotsav is an initiative of the Government of India to celebrate and commemorate 75 years of progressive India and the glorious history of it's people, culture and achievements.
This Mahotsav is dedicated to the people of India who have not only been instrumental in bringing India thus far in it's evolutionary journey but also hold within them the power and potential to enable Prime Minister Modi's vision of activating India 2.0, fuelled by the spirit of Atmanirbhar Bharat.
Azadi ka Amrit Mahotsav is an embodiment of all that is progressive about India's socio-cultural, political and economic identity. The official journey of "Azadi ka Amrit Mahotsav" commences on 12th March, 2021 which starts a 75 week countdown to our 75th anniversary of Independence and will end post a year on 15th August, 2023.
આઝાદી કા અમૃત મહોત્સવ અંતર્ગત "મહાત્મા ગાંધી" વિષય ઉપર રાજ્ય કક્ષાની ઓનલાઈન ચિત્રકળા સ્પર્ધાનું આયોજન
વિજેતાઓ માટેના રોકડ ઈનામ
પ્રથમ ઈનામ – 7000 રૂપિયા
ડ્રીતીય ઈનામ – 5000 રૂપિયા
તૃતીય ઈનામ – 3000 રૂપિયા
આ ચિત્રસ્પર્ધામાં ધો ૧ થી ૧૨ માં અભ્યાસ કરતા શાળાના બાળકો ભાગ લઇ શકશે.
કૃતિ અને ફોર્મ ઓનલાઈન સબમિટ કરવાની તારીખ: ૧૧ સપ્ટેમ્બર ૨૦૨૧ સવારે ૧૨.00 કલાકથી ૧૫ સપ્ટેમ્બર ૨૦૨૧ ના રાત્રે ૧૨.00 કલાક સુધી
કૃતિ અને ફોર્મ સેન્ડ કરવા માટેનું ઇમેલ એડ્રેસ: gslka.independence@gmail.com
Let us Sing the National Anthem.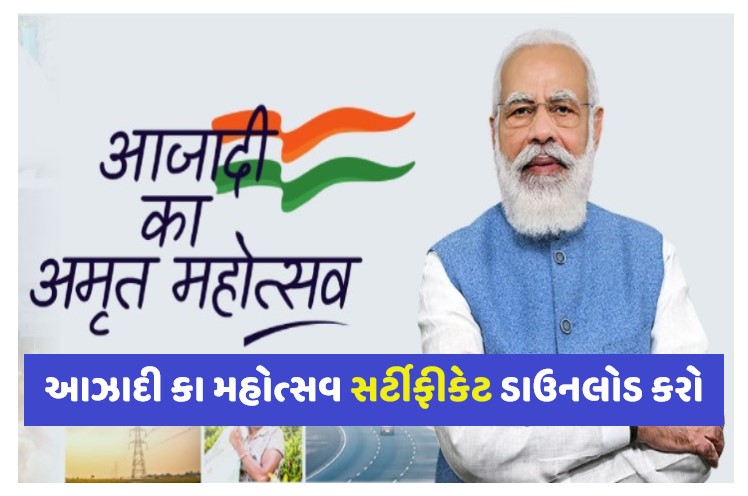 Step to download Azadi Ka Amrit Mahotsav Certificate
Step 1: Enter Your Details
Step 2: Stand and Record your video
Step 3: Upload
Step 4: Download certificate
મહત્વપૂર્ણ લિંક
💥સર્ટિફિકેટ ડાઉનલોડ કરવા માટે અહીં ક્લિક કરો
👉આઝાદી કા અમૃત મહોત્સવ ઉજવણી લેટર વાંચવા માટે અહીં ક્લિક કરો
🎥 આઝાદી કા અમૃત મહોત્સવ સર્ટિફિકેટ કેવી રીતે ડાઉનલોડ કરવું તેનો વિડીયો જુઓ
👉 Official Website: Click Here
ખાસ અગત્યનું: શિક્ષક સજ્જતા સર્વેક્ષણ વાંચન મટેરીયલ