Khel Mahakumbh 2022 Online Registration @khelmahakumbh.gujarat.gov.in
KHEL MAHAKUMBH 2022 aims to encourage every individual of Gujarat to participate in the event. This event incorporates 36 games and Special Khel Mahakumbh for Divyang players. The games are scheduled in such a way that every individual from Under 9 to Above 60 old can participate in this Grand Sports Event Khel Mahakumbh.
Giving information about the decision taken by the spokesperson of the Gujarat government regarding the cabinet meeting held on Wednesday, Minister Jitu Waghani said that the portal of Khel Mahakumbh will be opened by the Chief Minister in Ahmedabad tomorrow in which Harsh Sanghvi will be present. About 150 athletes will participate in 252 talukas with 150 athletes per district. The entire program will be live. This time 45 lakh athletes will participate in this Khel Maha Kumbh. Registration will start from tomorrow which will last for 10 days.
What is the purpose of Khel Mahakumbh?
Excellence is promoted with the aim of imparting specific skills in the field of sports. In addition, its quality is enhanced by providing special training, sports equipment and infrastructural facilities. Athletes with the potential to win medals are exposed to various formal as well as informal competitions and are given a variety of intensive training. Strategy involves a variety of activities to achieve these objectives. Which also automatically determines its operational objectives. However S.A.G. In particular, it implements government schemes related to sports. These schemes are included in the budget of the government. Formerly the office of the Youth Services Commissioner was run in consultation with the State Sports Council. Some new sports have been added to SAG since its inception.
Where can I get information about KMK 2022?
Sports Authority of Gujarat organizes KMK 2022. For this you can go to the site named https://khelmahakumbh.gujarat.gov.in and get all the details as well as all the updated information from the registration process.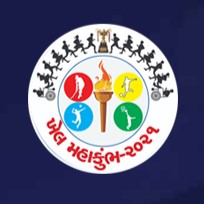 Important Links:
Official Website: khelmahakumbh.gujarat.gov.in
ટોલ ફ્રી (૧૦:૩૦ સવારથી ૬:૧૦ સાંજ) – ૧૮૦૦ ૨૭૪ ૬૧૫૧